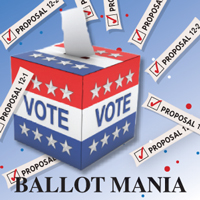 Michigan voters will confront six ballot questions in the 2012 general election. Five are constitutional amendments, while Proposal 1 is a referendum on whether to keep the 2011 emergency manager law. Each of these questions, in its own way, will have effects on public policy in Michigan for years, even decades, to come.
Bridge Magazine stepped away from the blizzard of political advertising surrounding these questions and looked instead at the important matters: What's the policy behind the question? What would a "yes" vote mean for Michigan? What would a "no" vote mean? Why did these questions reach the ballot?
"Ballot mania" is the compilation of Bridge's reporting for the 2012 election. We invite you to review it, as it could prove helpful when you enter the voting booth on Nov. 6.
BALLOT PROPOSALS
Special interest money floods ballot-measure efforts
Ballot battles buried in cold hard cash
PROPOSAL 1 – THE EMERGENCY MANAGER
Prop 1 is a fight over local control, with a backdrop of fiscal crisis by Kathy Barks Hoffman
PROPOSAL 2 – COLLECTIVE BARGAINING
Prop 2 highlights business-labor divide by Rick Haglund
Genesis of Prop 2 found in right to work debate by Nancy Derringer
PROPOSAL 3 – RENEWABLE ENERGY
More renewable power, but at what cost? by Jeff Alexander
Renewable energy prop could divide communities targeted for wind farms by Jeff Alexander
PROPOSAL 4 – HOME HEALTH CARE WORKERS
A battle on the (home) health front by Nancy Derringer
PROPOSAL 5 – 2/3 MAJORITY TAXATION
Prop 5 seeks to end majority rule on taxes by Ted Roelofs
California a poster child for limited taxation, for critics and advocates alike by Ted Roelofs
Advocates say taxes are high, but figures show Michigan in the middle by Ted Roelofs
PROPOSAL 6 – BRIDGE CONSTRUCTION
Blizzard of cash obscures bridge issue by Nancy Derringer
COLUMNS
Ban on per-signature fees can help rescue the state constitution by Phil Power
Snyder's reinvention plan for Detroit tied up in two ballots by Peter Luke